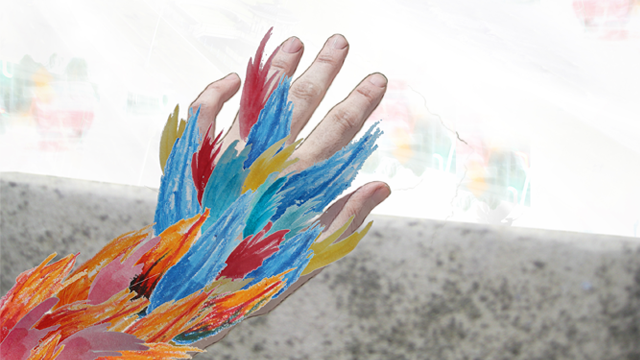 Artist's statement:



In the year 2000 I fell down a ravine in Ecuador: as I fell I had a powerful feeling that the experience "was just a dream" and on landing my body seemed far below me. This experience woke me up into a whole-hearted way of living a creative life. Since then, my work has explored how we model and locate our lived experience. My intention always being to open up notions of presence, identity, agency and embodiment as flexible and creative.

Questions of mental, social and environmental ecology do not simply inform each other, but depend on each other. I founded chroma.space inspired to grow an interdisciplinary creative studio towards supporting radical imagination and warm activated creative communities. Through research I bring together creative and scientific methodologies to emphasise the active role that imagination plays in perception and in creating our shared worlds.

Through my art work I look to create potent imaginal spaces that support fresh meetings. I am interested in creating spaces and stories wild enough to support complex communications between living beings with particular attention to non-verbal ways of knowing: symbolic imagery, sound, feeling, touch, taste.

︎
Kate Genevieve
is an artist, researcher, writer and educator at
chroma.space
Kate has worked between art and science for over a decade researching multi-sensory communication and presence and the transformations of emerging immersive technologies. Her projects explore the flexible relationship between the physical and the virtual, the real world and imagined ones.
Kate exhibits nationally and internationally, most recently at ONCA Gallery, FLUX Lab Geneva, FACT Liverpool, Brighton Dome, Gympie Regional Gallery Queensland, Science Gallery London and Watermans, as well as unique commissions for outdoor spaces such as Lulworth Castle, Embassy Court Brighton and the Crawick Multiverse.
Talks include TEDxBrighton, Wellcome Trust, SITE Gallery, ISEA, NCCR Affective Sciences Conference, Serpentine Gallery and BFI. Creative work has featured on BBC radio and the
Poetry Exchange
.
As a research artist, Kate presents work at festivals and conferences like NIME Brisbane, iX Symposium Montreal, Toward a Science of Consciousness Arizona and Siobhan Davies Dance and in conversation with artists and academics at ISEA Dubai, London Design Festival and Sheffield Doc/Fest. She has worked in collaboration with academic projects for the Association for the Scientific Study of Consciousness (ASSC), ART DATA HEALTH and most recently London's Furtherfield Gallery and Design Informatics at the University of Edinburgh.
Kate read English Literature at the University of Oxford and received her MA in Creative Media Practice from Sussex University. She is completing her practice-based PHD at the University of Sussex on multi-sensory communication, affective touch and relational experience in Mixed Reality environments.
Working in studio at Phoenix Brighton and in long-term Visiting Artist roles with the Sackler Centre of Consciousness Science and the University of Geneva's Swiss Center for Affective Sciences, her interdisciplinary artworks blend performance practice with experimental audio-visual installation and Mixed Reality.
Kate is currently a resident at the Fusebox, Brighton.
May 23rd, 2020

Dear friends,


As we work out how to turn up for our communities, and simultaneously take measures to avoid spreading illness, I hope you and yours are taking care and doing OK through the changes.

In 2020 the distortions and social inequities of our modern world are exposed for all to see. There is no hiding from the sickness of a society that is distorted by pervasive racial injustice and a financial system that squeezes those already living on the edge the hardest. Though every person's life is affected by the Covid-19 pandemic, at the same time movements of creative activism are galvanising to fight for a wholesale transformation of this society.

I have been asking myself how can creative practice support individuals' and community's creative response as we work for societal transformation alongside living with pandemic? How can we make nourishing creative community across distance?

I find many answers in Buddhist practice. Buddhist training teaches what a difference it makes to act from interdependence, inspiration and fresh energy, rather than reactivity and fear. I've been motivated by this through Lockdown and I feel honoured to be holding online meetings with artists I have utmost respect for and finding new ways together and strong laughter.

The first part of Lockdown was spent in isolation with my daughter in our little home in the wilds of Hampshire. We listened to the birds sing louder each day, home-schooled, and new projects started to grow as programmed work was delayed and then cancelled. One emergent stream was around living symbolic imagination and all are welcome to join the Language of the Birds sessions: an open invitation to spend deep time together in the roots of things through our dreams, poetry, myth, art, science, activism and systems change and ecological thinking. The collective work is part of a fresh initiative for chroma.space called Chroma Somatic. We are laying the foundations and there will be more to come on this in 2021 with events and spaces to support activated wellbeing, beginning with food & contemplative practice.

Sending you strength, support and courage for this journey, and most especially to those who are suffering and facing extraordinary challenges.

Make care, rest when you need, and may your life be touched by love.
- Kate Genevieve
Gate gate pāragate pārasaṃgate bodhi svāhā
A note on names...

I am working as Kate Genevieve, and I have worked and been known as Kate Genevieve Vega and Katharine Vega.

In the first decades of my creative practice I became known by my first names Kate Genevieve quite organically. In 2015 onwards I started exhibiting art and taking on work with the surname Katharine Vega (sometimes Kate Genevieve Vega). Yet over the years I gravitated back to my first names only.

In 2020 I work and write as Kate Genevieve. My most recent exhibitions and current writing use my first and middle name only ︎
---