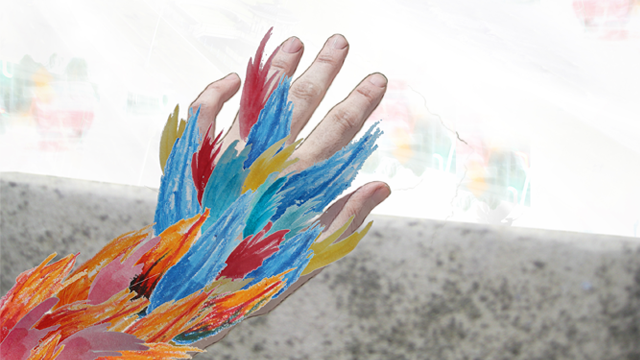 Artist's statement:



I was born in London in the UK and grew up beside the River Thames. I now live in the hills of Te Whanganui-a-Tara / Wellington, Aotearoa, New Zealand.

In the year 2000, I fell down a ravine in Ecuador: as I fell, I had a powerful feeling that the experience "was just a dream" and on landing my body seemed far below me. It was a profound experiential learning that taught me that presence, embodiment and identity were plural, flexible and creative. I woke up to a more improvisatory, curious and imaginative way of living and creating.

My artwork creates potent imaginal spaces that support fresh relational encounters: from outdoor performance journeys to spaces for collective dreaming. I began my creative life in experimental devised theatre in East London in the late 90s and early 00s. Training in animation enabled me to open up performance and movement with various visual media, like visual projections and Virtual Reality.

Through my PhD research, I bring creative and scientific methodologies to explore multi-sensory and symbolic communication and world-building. My work explores how we model and locate our lived experience within relational realities, informed by the sense that mental, social, and environmental ecologies do not simply inform each other but depend on each other. Relational practices and the transformational power of the somatic and imaginal are vital to my ongoing creative work.

I founded chroma.space as an interdisciplinary creative studio to make work that invites warm creative communities through art, events, open labs and shared learning. Continuing work from the ArtCOP21 in Paris 2015, chroma.space collaborates with cultural networks focused on creative activism, systems change, knowledge exchange and the living archive.

This work is rooted in the sense that art and art-making have a unique power to reveal emergent potentials, and to communicate fresh insight, understanding and radical imagination.
︎
Kate Genevieve
is an artist, researcher, writer and educator at
chroma.space.
Her projects explore the flexible relationship between the physical and the virtual, the real world and imagined ones.
Kate works between art, science and culture researching multi-sensory communication and presence through performance. She has over two decades of experience in performance, live art and installation, teaching, curating and devising creative programmes and labs with communities.
Installations and performances have exhibited nationally and internationally at ONCA Gallery, FLUX Lab Geneva, FACT Liverpool, Brighton Dome, Gympie Regional Gallery Queensland, Science Gallery London and Watermans Arts, as well as unique commissions for outdoor spaces such as Lulworth Castle, Embassy Court Brighton and the Crawick Multiverse.
---
Long Bio

Kate read English Literature at the University of Oxford and received her MA in Creative Media Practice from Sussex University with Distinction. She is completing her practice-based PhD at the University of Sussex on multi-sensory communication, affective touch and relational experience in Performance environments.
In long-term Visiting Artist roles with the Sackler Centre of Consciousness Science and the University of Geneva's Swiss Center for Affective Sciences, interdisciplinary artworks blend performance practice with experiential installation towards opening up new ways of being, dreaming and living together.
Kate has presented her work and research at the Wellcome Trust, Serpentine Gallery, BFI and BBC radio. She also curates exhibitions and live events, most recently with ONCA Gallery, Flux Laboratory and Phoenix Brighton. Recent poetry work features on the
Poetry Exchange
.
As a research artist, Kate has presented art-as-research at festivals and conferences like NIME Brisbane, iX Symposium Montreal, Toward a Science of Consciousness Arizona and Siobhan Davies Dance in London. She has participated in panels, art events, and public conversations with SITE Gallery, London Design Festival and Sheffield Doc/Fest, and produced meetings and workshops around ecology and creative activism for ISEA and Balance-Unbalance. During her residency with the University of Geneva, she gave a Keynote for the NCCR Affective Sciences Conference with her collaborators at the Swiss Center for Affective Sciences. With colleagues at Further Arts Vanuatu held an online exhibition of work for Weaving Connection during POLLEN 2020. Kate has collaborated with academic projects for the Association for the Scientific Study of Consciousness (ASSC), ART DATA HEALTH, and London's Furtherfield Gallery and Design Informatics at the University of Edinburgh.
Kate lived in Brighton for a decade, working from a studio at Phoenix Brighton and then as a resident artist at Fusebox, Brighton. She worked for many years as a Lecturer teaching the Beyond the Screen Module for the Digital Media Arts MA at the University of Brighton and also taught the Expanded Media module for the Creative Media Practice MA at the University of Sussex. During her Doctoral work as an Associate Tutor at Sussex she taught across BA and MA courses. She now lives in Liss Forest, travelling to different Galleries, sites and Universities for projects, residencies, and teaching as a Visiting Lecturer.
May 23rd, 2020

Dear friends,

As we work out how to turn up for our communities and simultaneously take measures to avoid spreading illness, I hope you and yours are taking care and making it through.

In 2020, the social inequities of extractivist culture are exposed for all to see. There is no hiding from the brokenness of contemporary society distorted by racial injustice and a financial system that squeezes those already living on the edge the hardest. This systemic injustice means marginalised communities continue to suffer the most.

At the same time, activist movements are galvanising to fight for something better. There is a swell of creative communities running together with energy and organisation. If you can donate, many excellent initiatives need support in their work. Adequate resources make it much more possible to work in powerful and practical ways.

I am sharing two GoFundMe campaigns close to my heart:


Gate gate pāragate pārasaṃgate bodhi svāhā
︎ from the woods in Liss, May Day 2020
Intercreate artists seek support for the ni-Vanuatu Cultural Festival the Dung Verei
---

Through the Lockdown, I am living with my daughter in a bungalow in the wilds of Hampshire. We listen to the birds sing louder each day, home-school, and I notice new projects start to grow, where programmed work and exhibitions have fallen away with cancellations.

I have been asking myself how can creative practice support individual and community creative response as we work for the changes alongside living with the pandemic.

In my own life, I find strong answers in Buddhist practice. Somatic meditation teaches what a difference it makes to act from inspiration and fresh embodied energy, rather than reactivity and fear. The Tao teaches the tending of Sangha and deep respect for our essential interdependency with living communities.
Towards tending connection between creators in community, I have two invitations to share.

The first invitation is to join a weekly online meeting with a group of artists towards dreaming alternative collectivities & finding fresh ways into play & creativity across distance:
Terra Incognita

The second invitation has a more explorative focus on living symbolic imagination.
Language of the Dream
is an open invitation to spend time in the roots of things through dreams, poetry, myth, art, science, activism, systems change research and ecological thinking.

If you are looking for connection, these meetings are welcoming and open to all. I am wishing you strength, support and courage, especially to those who are suffering and facing extraordinary challenges.

Make care & rest when you need.
Sending you love through all of it.
- Kate Genevieve
A note on names...
I work and am known as
Kate Genevieve
,
Kate Genevieve Vega
&
Katharine Vega
.
In the first decades of my creative practice, I became known by my first two names
Kate Genevieve
quite organically. However, when doing acting, voiceover & film work, I included a surname for the credits. In 2015 as my film and art streams started to blend more and more, I began to exhibit art with a surname (
Katharine Vega
,
Kate Genevieve Vega
).
But my original name had sticking power! I've followed the flow & my recent exhibitions and current writing use my first and middle name,
Kate Genevieve
︎ Only film work - e.g.
voiceover
- still goes out as
Katharine Vega
.