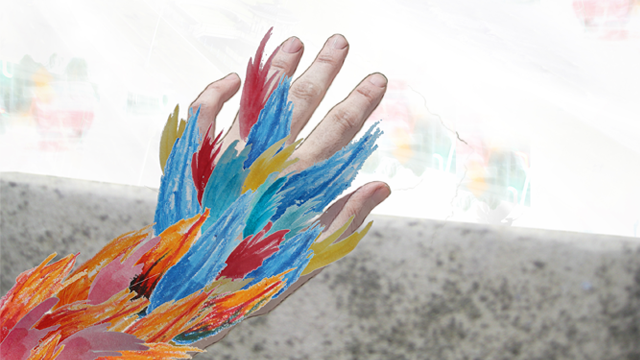 Artist's statement
I was born in London in the UK and grew up next to the River Thames. I now live in the hills of Te Whanganui-a-Tara / Wellington, Aotearoa, New Zealand.

In the year 2000, I fell down a ravine in Ecuador: as I fell, I had a powerful feeling that the experience "was just a dream" and on landing my body seemed far below me. It was a profound experiential learning that taught me that presence, embodiment and identity were plural, flexible and creative. I woke up to a more improvisatory, curious and imaginative way of living and creating.

My artwork creates potent imaginal spaces that support fresh relational encounters: from outdoor performance journeys to spaces for collective dreaming. I began my creative life in experimental devised theatre in East London in the late 90s and early 00s. Training in animation enabled me to open up performance and movement with various visual media, like visual projections and Virtual Reality.

Through my PhD research, I bring creative and scientific methodologies to explore multi-sensory and symbolic communication and world-building. My work explores how we model and locate our lived experience within relational realities, informed by the sense that mental, social, and environmental ecologies do not simply inform each other but depend on each other. Relational practices and the transformational power of the somatic and imaginal are vital to my ongoing creative work.

I founded chroma.space as an interdisciplinary creative studio to make work that invites warm communal learning through art, events, open labs and shared learning. Continuing work from the ArtCOP21 in Paris 2015, chroma.space creates art that relates to embodied perception and ecological imaginaries, and collaborates with cultural networks focused on creative activism, systems change, knowledge exchange and the living archive.

This work is rooted in the sense that art and art-making have a unique power to create knowledge about process and communication, and that embodied, relational, creative life feeds activism in real ways.
︎
Kate Genevieve
is an artist, researcher, writer and educator at
chroma.space.
Her projects explore the flexible relationship between the physical and the virtual, the real world and imagined ones.
Kate works between art, science and culture researching multi-sensory communication and presence through performance. She has over two decades of experience in performance, live art and installation, teaching, curating and devising creative programmes and labs with communities.
Installations and performances have exhibited nationally and internationally at ONCA Gallery, FLUX Lab Geneva, FACT Liverpool, Brighton Dome, Gympie Regional Gallery Queensland, Science Gallery London and Watermans Arts, as well as unique commissions for outdoor spaces such as Lulworth Castle, Embassy Court Brighton and the Crawick Multiverse.
---
Long Bio

Kate read English Literature at the University of Oxford and received her MA in Creative Media Practice from Sussex University with Distinction. She is completing her practice-based PhD at the University of Sussex on multi-sensory communication, affective touch and relational experience in Performance environments.
In long-term Visiting Artist roles with the Sackler Centre of Consciousness Science and the University of Geneva's Swiss Center for Affective Sciences, artworks blend performance practice with experiential installation towards opening up playful research into communication and relational experience.
As a research artist, Kate has presented art-as-research at festivals and conferences like NIME Brisbane, iX Symposium Montreal, Toward a Science of Consciousness Arizona and Siobhan Davies Dance in London. Kate has presented her work and research at the Wellcome Trust, Serpentine Gallery, BFI and BBC radio. She has given Keynotes and participated in panels, art events, and public conversations with SITE Gallery, London Design Festival and Sheffield Doc/Fest, and for the NCCR Affective Sciences Conference.
As a curator, she has curated exhibitions and live events with ONCA Gallery, Flux Laboratory, Phoenix Brighton, and has produced meetings and workshops around ecology and creative activism for ISEA, Balance-Unbalance, Schumacher College, Brighton University and numerous festivals and conferences. This includes online events and zoom performances during the Pandemic for POLLEN 2020 and with Furtherfield Gallery.
Kate has collaborated with academic projects for the Association for the Scientific Study of Consciousness (ASSC), ART DATA HEALTH, Brighton University and London's Furtherfield Gallery and Design Informatics at the University of Edinburgh.
Kate lived by the sea in Brighton for a decade, with studios at Phoenix Brighton. Working as an artist and Lecturer, she taught on the Beyond the Screen Module for the Digital Media Arts MA at the University of Brighton and on the Expanded Media module for the Creative Media Practice MA at the University of Sussex, as well as teaching across various BA and MA courses at Sussex.
She now lives by a different ocean in Te Whanganui-a-Tara, and has moved her creative studio to Aotearoa New Zealand, and serves as trustee with Intercreate in Taranaki working on arts and cultural projects. Currently, she designs and leads an experimental programme with Schumacher College:
ecologiestechnologies.com.
The second phase begins in June 2023, under the theme -
Cosmoimaginaries
.
︎ Liss Forest, May Day 2020
Gate gate pāragate pārasaṃgate bodhi svāhā
---
A note on names...
I work and am known as
Kate Genevieve
,
Kate Genevieve Vega
&
Katharine Vega
.
In the first decades of my creative practice, I became known by my first two names
Kate Genevieve
quite organically. However, when doing acting, voiceover & film work, I included a surname for the credits. In 2015 as my film and art streams started to blend more and more, I began to exhibit art with a surname (
Katharine Vega
,
Kate Genevieve Vega
).
But my original name had sticking power! I've followed the flow & my recent exhibitions and current writing use my first and middle name,
Kate Genevieve
︎ Only film work - e.g.
voiceover
- still goes out as
Katharine Vega
.