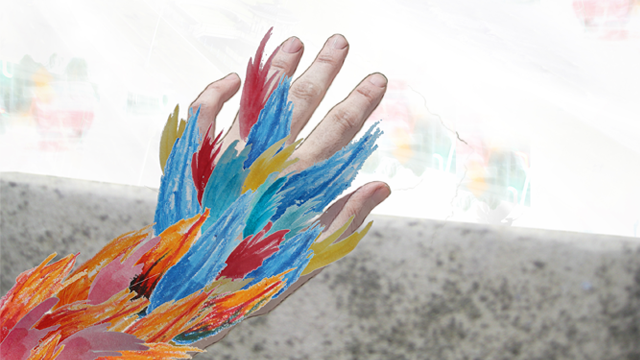 Kate Genevieve Vega
is an artist, researcher, writer and educator at
chroma.space
Her projects explore the flexible relationship between the physical and the virtual, the real world and imagined ones. She is completing her practice-based PHD at the University of Sussex on multi-sensory communication, affective touch and self-experience in Virtual and Mixed Reality environments.
Artist's statement:



In the year 2000 I fell down a ravine in Ecuador: as I fell I had a powerful feeling that the experience "was just a dream" and on landing my body seemed far below me. Since then, my work has examined how we model and locate our lived experience. My intention always being to reveal notions of presence, identity, agency and embodiment as flexible and creative.

Through my art work I look to create spaces of meeting. To explore what is communicated between living beings in rich ecosystems and the status of non verbal information: rich imagery, sound, feeling. Through research I bring together creative and scientific methodologies to explore the active role that imagination plays in perception.

Questions of mental, social and environmental ecology do not simply inform each other, but depend on each other. I founded chroma.space inspired to grow an interdisciplinary creative studio towards supporting radical imagination and warm activated creative communities.
A note on names
I am working as
Kate Genevieve
now, and I have worked and been known as
Kate Genevieve Vega
and
Katharine Vega.
In the first decades of my creative practice
I
became known by my first names
Kate Genevieve
quite organically. In 2015 onwards I started exhibiting art and taking on acting work under the name
Katharine Vega
(sometimes
Kate Genevieve Vega
) but my first names had sticking power. I continue to work and write poetry as
Kate Genevieve
and my last exhibitions and current writing use my first and middle name only.
---